Redefining The Cheese Experience
Changing the world one nibble of cheese at a time...
St. Anne's Cheese Co. started with the goal to showcase local businesses and bring together a community of cheese lovers. Whether you are interested in learning how to stretch mozzarella at home, creating beautiful charcuterie boards for your next party, or taking a farm tour and making your own cheese from scratch, we've got you! Let's connect and get cheesy with it!
Available Pop-Up Shops: East Dayton Butcher Shop, Olde Schoolhouse Winery, Arrow Wine and Spirits (Centerville & Oakwood), Hungry Toad Farm, Weiland's Grocery Store (Columbus), Jungle Jims (Fairfield and Cincinnati), and Dots Market Centerville.
St. Annes Cheese Co. is a member of the Ohio Cheese Guild, the Dayton Rotary Club and The American Cheese Society.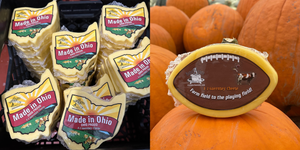 kick off your tailgate parties right
Our Farm-Football Field specialty Cheddar Cheese & St. Anne's Cheese specialty Cheddar Cheese shaped like the buckeye state, Ohio!
Pair with one of our customizable cheese boards and kick off your tailgate parties right!
Now available at Jungle Jim's in Fairfield & Cincinnati.
SHOP NOW
Cheeseballs: DIY Holiday Fun with St. Anne's Cheese Co!
---
Private Events
You can book St. Anne's Cheese Co. for birthdays, corporate events, or private dining parties. All course offerings can be tailored to the event specifics and needs.